Residential Solar Maintenance and Repair
RESIDENTIAL SOLAR MAINTENANCE AND REPAIR IN FLORIDA
Florida Power Services "The Solar Power Company" has been providing Florida residents with high quality residential solar panel maintenance and repair for over 17 years. Whether you're in need of a completely new solar power system, dialing in your existing solar system or if you need roof repair or replacement underneath your solar system, we've got you covered. No job is too big or too small.
RESIDENTIAL SOLAR POWER MAINTENANCE
INVERTER ERROR CODES AND LOW SOLAR POWER OUTPUT
The inverter on your Residential Solar Power System converts the sun into energy that you can use throughout your home. However, sometimes the inverter hits trouble. When your inverter is failing to work correctly, your system will struggle to get optimal levels of energy – leaving you without power and frustrated.
At Florida Solar Power Services we have the tools to diagnose the error codes that inverters throw out and the expert knowledge to get it back up to full power quickly. Should your system be suffering from Low Solar Power Output then give us a call; we can make the repairs that will get it back up to speed!
OUR RESIDENTIAL INVERTER MAINTENANCE PROCESS
We'll analyze the inverter error codes and find the root cause of the problem
Inspect the connections between the inverter, your main service, and the solar panels
Thoroughly clean the inverter or remove any faulty parts
Leave you with an inverter and solar system that runs at peak performance, so you get your money's worth.
SIGNS YOUR SOLAR INVERTER HAS PROBLEMS
Red lights and error codes
Low Solar Output
Electricity bills are higher than usual
The use of batteries in off-grid or on-grid Solar Power Systems requires regular maintenance. Many battery problems can are caused by dirty and loose connections, corrosion or flooded batteries. When batteries become unhealthy, then your home won't be able to store as much solar energy, and you'll be wasting money.
With a Residential Solar Power Company in Florida, you can take care of replacing, cleaning or configuring your battery without risk.
Battery fluid is highly irritable and therefore it is advised against tackling alone.
Our expert team can attend to your battery problems, wearing protective gear and equipped with Hydrometers.
We'll clean up any dirty connections and quickly recognize any signs of wear.
Through regular maintenance, your Solar Batteries should last at least ten years, with optimal energy storage.
Any leaking roof is a huge problem, but add a PV Solar System into the equation and it becomes a severe issue. We know the pain. However, as specialists in Solar related roof problems, we can help.
Poor installation techniques and a lack of flashing during installation are the number one causes of Solar roof leaks.
We'll fix your leaks, with either a partial repair or full replacement. We'll also remove and re-install your solar panels in the process.
Our craftsmanship is regarded as the best in Florida, and we're proud to say our team has been serving the roofs of Florida homes for over 17 years.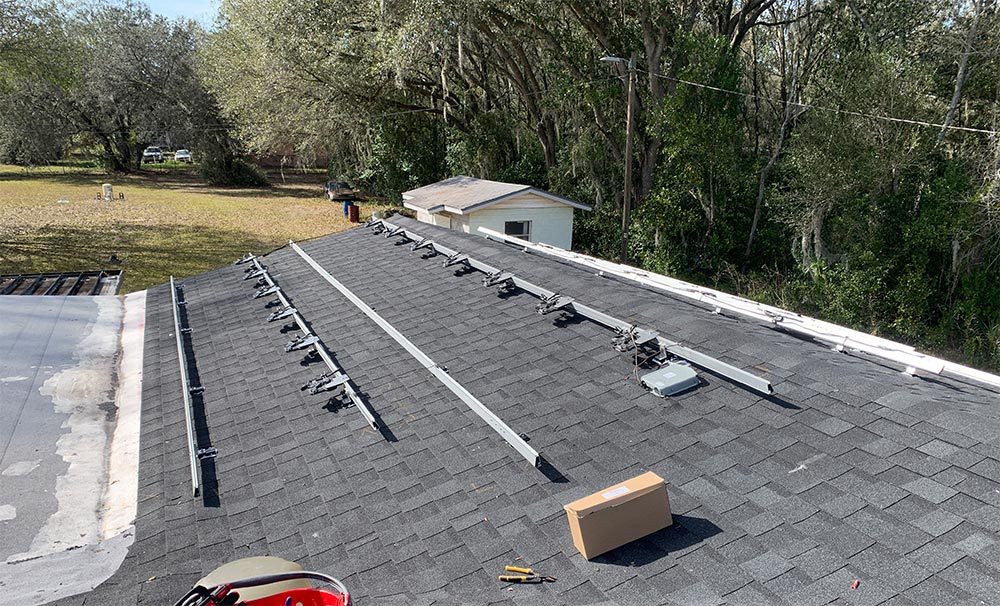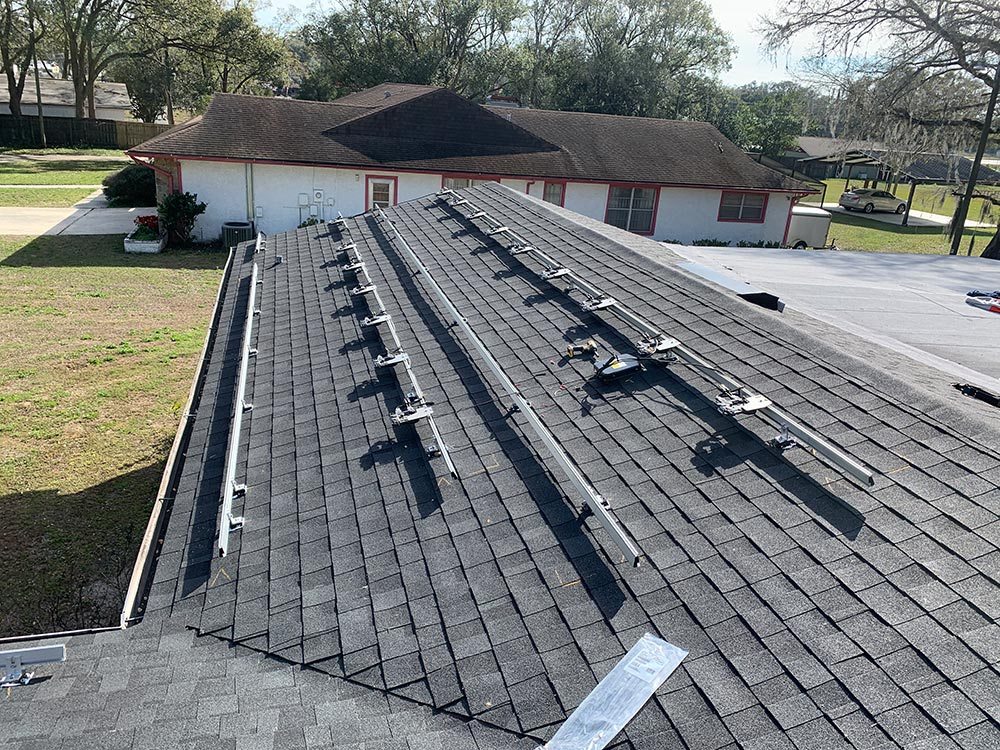 RESIDENTIAL SOLAR POWER REPAIRS
SOLAR PANEL REMOVAL AND REINSTALLATION IN FLORIDA
Installing solar panels on your home is a fantastic investment. Solar panels can protect your home from UV rays while saving you money through solar energy harvesting. But naturally, there are times where a roof needs to be replaced or worked on.
When solar panels are involved, roof work can become complicated. Most roofers will out-right refuse to touch a solar panel, let alone know how to remove and reinstall them safely. That's where a Residential Solar Power Company comes into play. Florida Power Services certified technicians know exactly what to do, on any type of roof and it only takes one phone call to handle the whole project.
OUR RESIDENTIAL SOLAR SYSTEM REMOVAL AND REINSTALLATION PROCESS
Florida Power Services "The Solar Power Company" carefully uninstalls the solar panels, rackings and roof attachments.
We neatly and securely store the system components while we work on the roof
We fix your roof and can replace it entirely when necessary
Once the roof replacement is made, we will re-install your solar panels with outstanding craftsmanship.
We can add new solar panels and install upgrades in the process.
After reinstallation, we will thoroughly test and confirm that your system is running optimally.
WHAT IS INVOLVED IN SOLAR PANEL REMOVAL AND REINSTALLATION?
Should you need to have your home's solar panels removed, then it involves unbolting the panels from their mounting device and disconnecting any wires. For a full removal, the solar circuit must be disconnected from the main line. The process may seem simple enough but can lead to costly mistakes if the service team has no relevant experience. If you plan to sell your home following removal, then your Residential Solar Power Company will also need to remove the mounting.
ROOF REPAIR AND REPLACEMENT
At Florida Power Services, when it's time to replace your roof we can remove and reinstall your solar panels. When you hire Florida Power Services, a Residential Solar Power Company to remove and reinstall your solar panels we'll work around the roofers schedule so there are no delays with your roof getting replaced. The removal will be scheduled ahead of the estimated start date of your roof so the roofers can get right to work, after the roof is completed we'll use new flashed mounting feet with stainless hardware to carefully reinstall your solar power system better than it was before.
Many homeowners get the urge to remove and repair their solar panels themselves. We can't advise against this enough. Your own health is at risk when you start climbing the roof and touching potentially lethal faulty connections. Our Florida Residential Solar Power Company can visit with the necessary equipment to perform safe and secure servicing that protects you, your home and your solar power investment for decades to come.
NEED UPGRADES TO YOUR PV SOLAR SYSTEM?
Thankfully any roof maintenance presents the opportunity to make some useful Solar System upgrades. As the industry progresses, future thinking homeowners are focused on the latest technologies such as monitoring capabilities (so you can track your system's production online), DC optimizers, higher efficiency panels or more peak kW.
RESIDENTIAL SERVICE AND REPAIR
SERVICE CALL = $350 (Includes 1st Hour Of Labor)
ADDITIONAL HOURLY LABOR = $115 (Includes 1st Hour Of Labor)
REMOVAL/REINSTALL PER PANEL = $175 (20 Panel Min, Includes New Roof Attachments)
Most issues are resolved with a service call and 1 hour of labor.
The Service Call area is 50 miles from Tampa.
Additional parts not covered under manufacturers warranty will be brought to your attention so the service call or reinstall is done properly.
If we installed the system and the issue is related to an installation defect there will be no charge.
Power surges, lightning, hail, wind damage are not covered under warranty.
GET IT DONE RIGHT WITH OUR TRAINED TECHNICIANS, KEEP YOUR SOLAR SYSTEM PRODUCING AT ITS MAX OUTPUT.