Venice


Solar

Power

Company
How Much Can I Save with Solar Power?
We provide solar panel installation to customers throughout Venice, Florida
---
Florida Power Services
"The Solar Power Company"
415 62nd St NW
Bradenton, FL 34209
(727) 667-9955
Florida Power Services
"The Solar Power Company"
Top Rated Venice Solar Power Company
Solar Power Installation in Venice, FL
Florida Power Services "The Solar Power Company" is your top rated Venice Solar Power Company. We install sleek, world-class solar systems for residential and commercial owners throughout Venice and Southwest Florida. Our company is respected as the experts in solar installation in Venice and is consistently helping homeowners and businesses save money and the environment. With 17 years of experience, our state certified team has gained a unique knowledge of solar design for all roof styles and wind loads. We provide seamless and safe installations of renewable energy systems that remain trouble free for 25-30 years. Solar Panels are what we do, and it's our passion to help Venice residents get electricity from the sun, with the best equipment and the latest installation methods.
Getting Started with Venice Solar Panel Installation
When you choose Florida Power Services "The Solar Power Company", you're choosing a company that cares about your involvement. We take care in ensuring you receive outstanding customer service from start to finish, by including you in the path to owning your very own solar energy system. Our 9 step plan includes:
Site Evaluation
Shading Reports
System Design
Return on Investment (ROI)
Payment
Permitting
Installation
Filing your Rebates
Service
How to Achieve the Best Return on Investment for Your Solar Power System in Venice
The numbers show the best ROI and savings are achieved by a one time payment for your renewable energy system. The financing options available for these types of improvements are mostly unsecured and carry contractor fees in addition to a higher APR which we have seen push the ROI out by years, many times. Solar leasing is also highly advised against. In these situations, the lessor gets the tax credits rather than the homeowner, who is locked into a monthly payment and effectively trading the power company for the solar leasing company. When you lease, you'll lose thousands. Payment by check is the best method to have an optimal ROI.
When you lease, you lose. Thousands.
If you're considering Solar Power Installation in Venice , or have any questions, then feel free to contact us today so we can advise you on what's best.
The Difference Between Florida Power Services and Other Solar Power Companies in Venice
At Florida Power Services "The Solar Power Company" we pride ourselves in providing solar power systems that are a step above the competition through world-class solar panel installation.
All of our system designs are reviewed and stamped by a Certified Professional Engineer.
Million dollar liability insurance
FSEC Certified PV Installer
NABCEP Certified PV Installer #PV-041115-002517
State Certified Solar Contractor #CVC56731
17 years of solar experience in the state of Florida
Our owner is onsite during installations
The greatest attention to detail and aesthetics
System monitoring
Double sealed roof penetrations and flashings
Metal Raceways
Premium Balance of System Components
Excellent Customer Support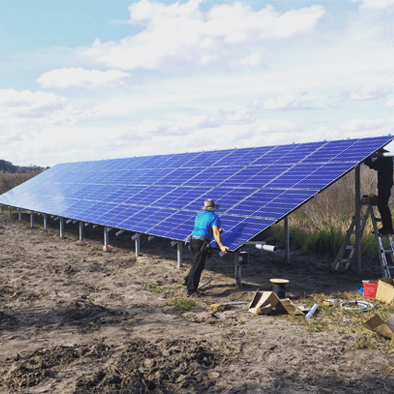 How Does Solar Power Work?
Solar Panels collect sunlight and convert its energy into direct current (DC) electricity. A solar inverter then converts the DC into alternating current (AC) electricity, which will feed into the power distribution panel of the property. The loads will then consume solar energy instead of grid power, in the event there are no loads excess electricity produced by the solar panels will be fed to the grid and tracked through the bi directional meter earning you credits to pull against at night.
Save and Store with Net Metering
Net Metering is a huge benefit for any solar system owner, as it allows you to essentially use the utility company as free storage for your excess solar production. Any excess electricity that your solar system creates will be fed back into the grid, and saved for a later date! Through the use of a single, bi-directional meter you'll be able to see how many kWh you've fed to the grid and at the end of a calendar year if there is excess a check! By simply installing solar panels onto your property in Venice, FL with net metering, you'll save money every month.
Why Should You Consider Solar Power Installation in Venice, FL?
Investment
Solar systems provide a long-term and low-risk investment with nothing but benefits. Whether you're a home-owner or a business owner, the decision is one that will save you significant amounts of money and ensure your property has a unique selling point for decades to come.
Electric Utility Savings
Within a decade you'll save tens of thousands of dollars, as solar power reduces your energy bill. Electricity rates are increasing with each passing year and as renewable energy sources deplete, anyone who invested in solar systems in advance will reap the rewards. Most electric utility companies bill their customers using a tiered rate plan. This plan typically means the first 1000 kilo-watt hours consumed per month are billed at the lowest rate per kilowatt hour, and anything over that is charged at a higher price. Solar systems can replace your highest cost power first. We can discuss your ROI (Return On Investment) and financing options to ensure you make back your investment costs, as soon as possible.
Added Property Value
The addition of a solar energy system to a Venice home will bring an increase in resale value. Evidence shows that a home's value increases by $20,000 for every $1,000 saved in annual electricity. Potential buyers are far more likely to be interested in a house with a pre-installed solar system, knowing the vast savings they'll make.
Tax
With today's federal tax incentives, there's no better time to go solar. Tax credits can provide a substantial portion of the total solar power system cost. The federal energy Investment Tax Credit (ITC) allows you to take a tax credit equal to 26% of the total cost of your solar system, and due to the Energy Improvement and Extension Act of 2008, the federal ITC remains available through 2020.
Configurations
We can provide various types of solar power systems. Whether you want a backup plan for a grid failure or cheaper kWh – we've got you covered. We can build a high-quality power solution tailored to your property and your needs through the finest workmanship in Venice, FL.
We offer:
Off Grid Solar (Micro Grids)
We have extensive experience in designing and installing off-grid solar power systems, which we like to call 'Micro Grids.' A Micro Grid is disconnected from the main grid and uses it's own battery storage system. We can design it so you have the means to use energy throughout the year, even in the darker months. Off Grid Solar is perfect for anyone who desires their very own standalone energy system.
Grid-Tied Solar With Backup Battery
This hybrid Solar System design allows you to give and take energy from the grid, while also having a system in place that will enable you to use electricity even when the grid is down. When the hurricane season next hits, and there's a blackout – you'll still have your lights on. A grid-tied solar with backup battery is perfect for commercial properties that need a backup system for when the grid fails.
On Grid Solar Systems
This system allows you to make huge savings on your electricity bill by selling energy back to your power company during peak sun hours. Your Net Metering system will let you earn money during the more expensive hours of the day, and only spend on grid solar energy during the cheaper evening times. Grid-tied solar systems are designed to meet a kWh consumption and will not provide power to loads in the event of an outage due to restrictions. They're perfect for anyone who wants to save thousands on their energy bills and use more clean energy!
Hire Solar Power Installation in Venice, FL
Florida Power Services "The Solar Power Company" has worked over the past decade to install eight megawatts of solar panels across the state (that's over 26,000 panels). We strive daily to exceed expectations, by delivering a special experience to our clients, with premium products backed by our 100% satisfaction guarantee.
Latest News in Solar Power
---
Florida Power Services "The Solar Power Company" Keeps You Up to Date in All Things Solar Power
REAL
G

O

O

G

L

E

REVIEWS From Our Clients
---
What a wonderful company. From consultation to installation to post-install check-in. Joe was understanding, courteous and professional along with all of his colleagues. Florida Power Services made the entire thing not only painless but worry-free. I HIGHLY RECOMMEND FLORIDA POWER SERVICES for your next solar installation in Tampa, FL.
Arthur Evans
05:49 27 Jul 20
I can not say enough about the company, and the panels. I'm a fan boy. I love the panels, love the free energy, love the super clean install. The install day went super smoothly. Best of all was communications with Florida Power Services of Tampa. They have been incredibly responsive all throughout the process, and even now - 6 months later. I can't recommend these folks enough.
Marley Simpson
05:45 23 Jul 20
Working with Florida Power Services "The Solar Power Company" we now have a dream come true; Healthy, energy efficient & electrical generating home:) I interviewed 3 other companies in Tampa and FPS was our choice. They have a great team, informative, responsive and capable. In one day they installed the 30 panels, did minor electrical upgrades and the controls. Once the solar panels were installed Joe Forest the

owner, visited our "Health Home". We really appreciate his integrity and grateful he has built a company that is making a difference in this day & age of changing climate. He has trained his team to provide a much needed service in a professional and caring manner. Florida Power Services of Tampa Rocks!

read more
Jasenias Fasenis
05:55 21 Jul 20
What a wonderful company. From consultation to installation to post-install check-in. Joe was understanding, courteous and professional along with all of his colleagues. Florida Power Services made the entire thing not only painless but worry-free. I HIGHLY RECOMMEND FLORIDA POWER SERVICES for your next solar installation in Tampa, FL.
Rishi Sarah
05:48 20 Jul 20
Working with Florida Power Services ''The Solar Power Company' has been a delight from start to finish--their analysis of our needs was detailed and easy to understand, the cost of the system was highly competitive, and installation went off without a hitch. Communication has been consistently clear, and it's been easy to get answers to any questions we had. Best of all, we're now generating our own electricity! I

always knew this would have environmental benefits, but it wasn't until we investigated in detail that I realized what economic sense it made. This is a system that will bring us benefits for decades to come.

read more
Sarah Despeissis
08:08 18 Jul 20
I would recommend Florida Power Services. Their staff were fantastic to work with and I was able to get solar panels within a fairly short time frame. Their installers were quick, responsive to my questions, and professional on site. Me and my wife are extremely happy that we went with FPS.
Dawn Baker
06:08 17 Jul 20
From my first contact with the company to the final conversation regarding system software integration, each individual was pleasant and helpful. The system has performed very well thus far and am happy to report that i haven't had an electric bill in three months - that is awesome. I would highly recommend FPS to anyone.
Mordy Conner
04:42 16 Jul 20
Florida Power Services "The Solar Power Company" is awesome to work with! Their pricing is great and their warranty is the best in the business!! We talked with about 5 different solar companies and we definitely picked the right one!! We have had no electric bill since thing have been up and running (4 months now). They did an excellent job on install and made things easy throughout the process!
Steven Epps
05:45 15 Jul 20
I've had my system for 8 years now and I'm a very happy solar customer! Joe always answers his phone and is so quick to provide the information I'm in search of. This day in age, it's tough to find companies that stand behind their work. If more businesses functioned like Joe and Florida Power Services The Solar Power Company, the world would be a much better place. Thank you guys for everything!
Eadmund Coathup
05:27 04 Mar 20
It was great working with Florida Power Services "The Solar Power Company". Having solar panels is piece of mind. The sales process was efficient and helpful, making it easy to understand. They take care of all the paperwork, which makes it super easy to get yourself up and running. Solar was something we'd wanted for a long time and Florida Power Services made it happen flawlessly!
Carolyn Teer
05:16 02 Mar 20
I can't say enough good things about Joe and Florida Power Services. In my opinion, they are the best solar power company in Tampa Bay. From the beginning to the end, they were nothing but professional. They always showed up for appointments, they were extremely responsive to my questions and concerns. I had gotten numerous estimates for my solar panels and battery and found at least half of the companies I dealt

with didn't call back or didn't even bother showing up. Florida Power Services made the whole process easy, they were the first to provide a quote and also provide the best value for quality equipment used. From getting the permits to coming up with the plan to the installation to the post-install follow up, The guys at Florida Power Services did an amazing job!!! I believe solar is the way to go and Joe with Florida Power Services is the guy you need to talk to!

read more
Drud Marchbanks
04:00 26 Feb 20
We had a bad experience with another solar company that started our project and then went bankrupt before it was finished. Joe with Florida Power was willing to work with us to complete the job. We were understandably nervous, but Joe was patient and kind, taking his time to answer all our questions. He was the one person we interviewed who didn't seem the least bit salesy, but instead seemed to really care about

his work. After we signed a contract with him, he had the panels delivered, installed and inspected in a week! He communicated openly the whole time and did exactly as he said he would. The installers did a great job and everything turned out perfectly. We only wish we had found Florida Power Services the first time. We would absolutely recommend them to everyone, as it was a pleasure working with them.

read more
Tamara DeNavarra
02:28 25 Feb 20
From day 1 working with Joe and Florida Power Service was easy and one of the best decisions we made. He worked around our schedules to set up phone calls so that we were both available to ask questions. Being new to getting solar on our house we obviously had a lot of questions and he was able to answer every one of them all without making us feel like we were stupid or were asking dumb questions. Even if we would

send him a question via email he was very quick to respond and did not make it seem like it was a hassle for him. One thing that we really liked about working with them is that the price they gave us was the price for everything for the length of financing contract. Other companies that we received estimates from would give us one price but that came with the stipulation that we put whatever tax credit we would receive towards the loan or the monthly payments would go up. They showed up on time, were extremely courteous and clean. They made sure that when they were done for the day that things were not just lying around in the yard or on the roof. If they had to come inside for anything they first knocked and made sure they either brushed their feet off or changed their shoes. We had a slight problem getting our inverters to connect to our wifi and instead of leaving when everyone would've Joe's brother stayed until almost 8 on a Friday night trying to get it all set up for us. Joe stayed with us throughout the entire process of us going live and coordinated everything Teco needed in order to get us up and running. As I stated before working with Joe made everything super easy and in just over a month (most of that time consisted of us having to wait for TECO to get our new meter) we are now running our entire house on solar. We are extremely grateful for all the hard work that Joe and Florida Power Service put in and highly recommend using them for any solar needs!

read more
Michael Zachar
22:49 08 Nov 19
I could tell you about the incredible service, workmanship, and price. I could tell you about the expertise and knowledge that Joe demonstrates the first time you meet him. However, what you really need to know, is before you sign with some other company, you owe it to yourself to talk to Joe.
Malcolm Page
15:07 11 Jan 19
Joe installed our Enphase solar system in 2015; the system works perfect and my energy bill was reduced 65%! Joe's installation was top notch, and the very few times I called for support (usually after a storm knocked out the router) Joe helped me get everything back to normal in no time. I highly recommend FPS - great system, expert installation, flawless performance!
John Hurst
23:45 03 Oct 18
Install went well with no problems and no delays. Joe and his crew showed up when they said they would. Total price of materials/labor was good and much cheaper than the Vivint and Solar City groups. Installed about 9mos ago, and still working well with no issues.
chris ross
01:03 25 Sep 18
Great experience with Florida Power Services. We had gotten our first quote from another contractor and we just about scrapped the whole idea of getting solar. Then we had Joe come out and told him we wanted a ground mount system that could double as a carport and he gave us a great price and a plan with the estimate. It didn't hurt that you get 30% tax rebate on a system this year. Joe and crew came out on a

Tuesday and put in the necessary hours needed and got it done that Friday. The only wait time is TECO swapping out the meter. We are happy with the install and it's addicting watching the meter and the power the system is producing on the the app. Thanks Joe!

read more
Sonny Greene
15:50 19 Sep 18
Our Solar Edge system was damaged during an electrical storm and our original installer Guardian Solar were not responsive. I put calls out to various vendors recommended by Solar Edge and Joe was the first to promptly respond and get to our site to investigate. Joe was incredible knowledgeable, thorough and diligent in diagnosing the fault and then spend hours on the phone with Solar Edge arranging a replacement

inverter under warranty. We are back in business generating power thanks to Joe. I would highly recommend Joe to any person looking for assistance with designing, installing and maintaining a solar system.

read more
Hans Smit
17:10 17 Sep 18
Did great job. Came when he said. Good price.I recommend him. If I had know about him when I was putting in the system I would have used him. I'll be telling everyone about him.
Dan Heston
15:46 11 Sep 18
Florida Power Services recently finished installing our 11.6 K solar system and we cranked it up last week. I have worked with contractors in a field other than solar power and gone through detailed bid procedures. We didn't do that in this case but we were looking for the same thing we always do in more rigorous bidding processes and that is, finding the least-cost-competent contractor. The simple translation

for that term is, "Best Bang for the Buck."We found that with this company. The owner, Joe Forest, is very direct and honest in his dealings and will let you know what he thinks is the best solution to your energy-producing requirements. I received a detailed quote and checked that, along with what Joe told me about the system components and projected performance. Everything I was told checked out and we got the process started. From there, we immediately received engineering drawings and paperwork for permits and within a week, work began. The installation crew, including the owner have obviously done a few of these and there was an efficient, coordinated effort resulting in a clean, finished product in two days. The panels look sharp and all conduit, inverter boxes and other hardware reflect a top professional installation. Upon completion, the crew took aerial shots of the house and solar hardware via drone and sent us a picture from above showing the finished product.We could not be happier with the entire process and result and give Florida Power Services our highest recommendation.

read more
Top-Rated Solar Power Company in Florida
---
Solar Installers Near Me