Off Grid / Micro Grid Solar Power System
OFF GRID SOLAR / MICRO GRID
Florida Power Services "The Solar Power Company" can design and install your home of the future, today. We have extensive experience installing a variety of solar power systems that take the sun's energy and convert it into usable, clean electricity. One of our most popular installations is an Off-Grid Power System that we like to call 'Micro Grids.'
WHAT IS OFF GRID SOLAR / MICRO GRID?
A Micro Grid is a solar power system that is disconnected from the main grid and uses its own independent battery storage system. It provides properties with free, clean energy without the need for power from the main grid. The battery bank will allow your appliances to run during the night, or when sunlight is sparse.
We are respected as one of Florida's finest Solar Power Installation companies, with Design and Consulting starting at $1,200. Don't get caught without enough power because an unproven contractor was trying to close a deal. Designing an Off-Grid Solar Power System requires a lot of dedicated time, and the review/approval of a competent FL PE is highly recommended.
Independent clean power
Battery bank for year-round energy
Increase your property value.
IS OFF GRID SOLAR POWER FOR ME?
Off-Grid Solar Power is perfect for anyone who needs their very own standalone energy system. It's ideal for any property that is unable to get utility service (such as an island or in a remote location), or for anyone who wants guaranteed electricity in the event of a grid failure or disaster.
We have a quality power solution to fit your needs that will not only conform to the latest version of the NEC, but also be installed by a team that provides exceptional service and communication from start to finish, backed by a 100% customer satisfaction guarantee.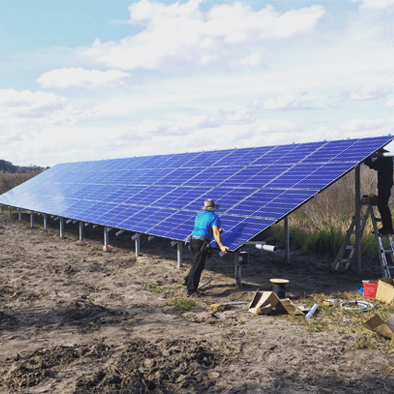 HOW ARE MICRO GRIDS INSTALLED?
Our expert team will analyze your property and design a solar system that brings optimal results. We'll then install the system (including 
solar panels
,
 battery storage
 and converters) through the finest workmanship in 
Florida
. When designing your 
Solar Power System
, we'll consider the following:
Loads – How many peak kWh you'll need, for consistent and reliable power.
Autonomy – How long will you want the loads to have power for during overcast conditions and overnight.
Life Cycles – How many times can the battery bank discharge and charge again before it needs replacing?
We'll design your very own 
Off Grid Power System
 providing you the means for independent power throughout every season.
Off Grid Solar provides a long-term, low-risk investment with nothing but benefits. Solar installation will save you significant amounts of money and ensure your property's value soars over the coming years.
Evidence shows that a home's value increases by $20,000 for every $1,000 saved in annual electricity. Potential buyers are far more likely to be interested in a house with a pre-installed solar system, knowing the vast savings they'll make.
Tax credits can also provide a substantial portion of the total solar power system cost. The federal energy Investment Tax Credit (ITC) allows you to take a tax credit equal to 26% of the total cost of your solar system, and due to the Energy Improvement and Extension Act of 2008, the federal ITC remains available through 2020.
WHY USE FLORIDA POWER SERVICES?
Florida Power Services "The Solar Power Company" has worked over the past decade to install eight megawatts of solar panels across the state. We strive daily to exceed expectations, by delivering a special experience to our clients, with premium products backed by our 100% satisfaction guarantee.
With 17 years of experience, our state certified team has gained a unique knowledge of solar design for all roof styles and wind loads. We provide seamless and safe installations of renewable solar energy systems.